Financial Planning and Advice Blog for Syracuse
Want to keep up with the latest news in the financial sector? HighPoint Advisors in East Syracuse, NY makes sure all our clients have the latest up to date financial information to better plan for their future. Feel free to browse the blog below to learn more about the current financial market.
If this blog raises interest or concerns please contact us at info@highpointadv.com.
How the Political Environment Can Create Market Volatility and Affect Investments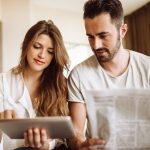 By SEO
January 19, 2021
No Comments
It's no secret that political events can affect markets and prices. Unlike other unpredictable events, like natural disasters, wars, and inclement weather, political goings-on are a constant source of market changes and adaptations. Why is this so, and what can investors do to protect themselves while maximizing their returns? HighPoint Advisors, LLC explores the relationship between the political environment and financial markets. (more…)...
Helping to Care for Aging Parents
By Sarah Flick
December 4, 2020
No Comments
Many adults are finding that their aging parents are in need of health care assistance. Luckily, there are many options available today to help your parents grow old gracefully, either in their own home or in a facility, and several ways that you can finance the costs of the care. If your parents are healthy seniors who can look after themselves, they generally are eligible to enter an assisted living community. They may also live with family. While living alone is also an option, there are a number of considerations they will want to contemplate first. If sending your parent to a nursing home is inevitable, make sure you research each home extensively. Medicare offers only limited financial support for elder care, and Medicaid is available only to those with very limited resources. The government offers some tax breaks to caregivers, but there is little in the way of financial help for those families paying for nursing home care. As a result, financial planning has become even more crucial to the economic well-being of adult children responsible for the care of their elderly parents. Keep Reading...