Financial Planning and Advice Blog for Syracuse
Want to keep up with the latest news in the financial sector? HighPoint Advisors in East Syracuse, NY makes sure all our clients have the latest up to date financial information to better plan for their future. Feel free to browse the blog below to learn more about the current financial market.
If this blog raises interest or concerns please contact us at info@highpointadv.com.
Five Strategies for Tax-Efficient Investing
By Sarah Flick
March 10, 2021
No Comments
Tax-efficient investing can be achieved in variety of ways. For example, you may be able to use losses within your investment portfolio to help offset realized gains. If your losses exceed your gains, you can typically offset up to $3,000 per year of the difference against ordinary income. After factoring in federal income and capital gains taxes, the alternative minimum tax, and possible state and local taxes, your investments' returns in any given year may be reduced by 40% or more. Here are five ways to potentially lower your tax bill.1 Keep on reading...
How the Political Environment Can Create Market Volatility and Affect Investments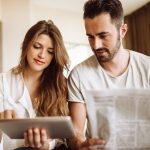 By SEO
January 19, 2021
No Comments
It's no secret that political events can affect markets and prices. Unlike other unpredictable events, like natural disasters, wars, and inclement weather, political goings-on are a constant source of market changes and adaptations. Why is this so, and what can investors do to protect themselves while maximizing their returns? HighPoint Advisors, LLC explores the relationship between the political environment and financial markets. (more…)...