Financial Planning and Advice Blog for Syracuse
Want to keep up with the latest news in the financial sector? HighPoint Advisors in East Syracuse, NY makes sure all our clients have the latest up to date financial information to better plan for their future. Feel free to browse the blog below to learn more about the current financial market.
If this blog raises interest or concerns please contact us at info@highpointadv.com.
Avoid These Financial Traps
By
May 24, 2019
No Comments
Money. It's hard to get and easy to lose. It doesn't take long for the wealth you've accumulated to disappear if you don't manage your money well or have a plan to protect your assets from sudden calamity. Snares like the ones mentioned below could easily threaten your financial security. Planning ahead can protect you and your loved ones from getting caught.
Undisciplined Spending
The more you have, the more you spend -- or so the saying goes. But not paying close attention to your cash flow may prevent you from saving enough money for your future. Manage your income by creating a spending plan that includes saving and investing a portion of your pay. Your financial professional can help identify planning strategies that can help maximize your savings and manage you tax consequences.
High Debt
With the easy availability of credit, it isn't hard to understand how many people rack up high credit card balances and other debt. Short-term debt will become long-term debt if you're paying only the minimum amount toward your balances. If you can't pay off your credit card debt all at once, consider transferring the balances to a card with a lower interest rate.
Unprotected Assets
Your life, your property, and your ability to work should all be protected. Life insurance has the potential to provide income for your family if you die. Homeowners and automobile insurance can help protect you if your home or car is damaged or destroyed and provide liability coverage if someone is injured. Disability insurance can protect your income if you're unable to work.
Unmanaged Inheritance
A financial windfall is great, but it also can be dangerous. Without solid advice on managing and investing the money, you could find that your inheritance is gone in a much shorter time than you would have thought possible. Your financial professional can help you come up with a plan for managing your wealth. Setting aside a portion of the money to spend on a trip or other luxury while investing the rest may be one way to reward yourself and still preserve the bulk of your assets.
Neglected Investments
Reviewing your investments to make sure they're performing as you expected -- and making changes in your portfolio if they're not -- is essential. But it's also essential to periodically review your investment strategy. You may find that your tolerance for risk has changed over time. You'll also want to assess the tax implications of any changes you plan to make to help manage their impact.
Retirement Shortfall
If you're not contributing the to your employer's retirement savings plan, you're giving up the benefits of pretax contributions and potential tax-deferred growth. Maximizing your plan contributions can start you on your pursuit of a comfortable retirement -- hopefully with no traps along the route.
Because of the possibility of human or mechanical error by DST Systems, Inc. or its sources, neither DST Systems, Inc. nor its sources guarantees the accuracy, adequacy, completeness or availability of any information and is not responsible for any errors or omissions or for the results obtained from the use of such information. In no event shall DST Systems, Inc. be liable for any indirect, special or consequential damages in connection with subscriber's or others' use of the content. The opinions voiced in this material are for general information only and are not intended to provide specific advice or recommendations for any individual. This information is not intended to be a substitute for specific individualized tax advice. We suggest that you discuss your specific tax issues with a qualified tax advisor. Life insurance policies contain exclusions, limitations, reductions of benefits, and terms for keeping them in force. Your financial professional can provide you with costs and complete details. © 2018 DST Systems, Inc. Reproduction in whole or in part prohibited, except by permission. All rights reserved. Not responsible for any errors or omissions.
...
4 Tips for Social Investment
By
March 7, 2019
No Comments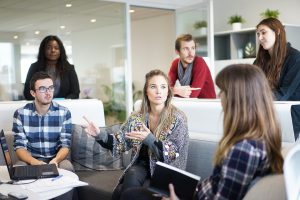 Social investment is growing in popularity, and with good reason. It allows investors to support the causes that are most important to them while building personal wealth. However, if you're not a financial pro, you may not be sure how to begin or have concerns about balancing your values and your finances. To learn more, check out four tips from HighPoint Advisors, LLC to get started with social investment today.
1. Understand Your Priorities
What causes are you most passionate about? Do you want to make a local or global impact? Take the first steps toward social investment by making a list of the issues that matter most. Once you've identified where your money could make an impact, you can also think about any other criteria that will govern your investments, such as environmental, social and governance standards, industries you'd prefer not to support and more.
2. Set Financial Goals
In addition to your commitment to social responsibility, it's also important to consider your individual financial needs. For many people, these concerns involve retirement planning, purchasing a home, planning for long-term care and/or starting college funds. While your financial planning needs will evolve over time, you should have a clear understanding of what you want to accomplish before investing.
3. Meet with a Financial Advisor
While you could manage your investments alone, many people are quickly overwhelmed by the prospect of doing so. Experienced financial advisors will listen to your goals and get a sense of your concerns to determine which investments are suitable for your needs. They'll be able to suggest the appropriate funds for the causes you support, help you balance your portfolio to manage risk, and aim to provide competitive returns.
4. Keep Balance in Mind
If you're passionate about social investing, you may want to choose funds that are fully aligned with your criteria for responsible investment. However, it's important to understand that while many options may meet a number of your standards, they could fall short in others. Additionally, your advisor may caution you against investing too heavily in a single area to avoid instability and increased risk. Stay focused on your top priorities, and remember that your own financial well-being is just as important as the causes you support.
Get Started Today
When you're ready to make social responsibility part of your investment strategy, contact HighPoint Advisors, LLC. Our financial advisors will provide personalized guidance to help you pursue your financial goals. Call 315-627-0474 to schedule an appointment and take the first steps toward social investment. Socially responsible investments may experience returns that may be lower than if the advisor made decisions based solely on investment considerations. Investing involves risk including loss of principal. The opinions voiced in this material are for general information only and are not intended to provide specific advice or recommendations for any individual....