In the Community
Highpoint Advisors is happy to sponsor and participate in many community events throughout East Syracuse, NY and the surrounding areas. Look through some of our recent events below. We hope to see you at our next local event!
Digital Care Package: Part 4
May 29th, 2020
We hope everyone had a beautiful, socially-distanced Memorial Day! Here's a new set of web-based diversions to keep you going. Productivity Corner
It's hard to stay focused when time has no meaning. Enter: meditation. Apps like headspace and calm offer free versions that make it easy to get started. Better sleep and less anxiety in just a few minutes a day? Definitely worth a try.
Keep on reading
...
Digital Care Package: Part 3
May 14, 2020* It's that time again! For our third installment of the digital care package, we added a new section – HighPoint at Home. We hope you enjoy it!
Keep on reading...
Digital Care Package: Part 2
May 1, 2020* We can't believe two whole weeks have passed since our first digital care package! We hope everyone is hanging in there and staying safe, healthy, and sane. Thank you to everyone who responded to our first digital care package. We hope you enjoy this one, too!
Productivity Corner Keep on reading...
Earth Day 2020
April 24, 2020
Every year, the HighPoint team chooses a different stretch of road near our offices to clean up for Earth Day. It's one of our favorite annual traditions. The cleanup is part of a program sponsored by OCRRA, which provides materials and special pickup sites around the county to encourage participation. Sadly, this year's event was cancelled as part of OCRRA's efforts to reduce the spread of the COVID-19 virus. But we decided that the cleanup is important to all of us, so we did a socially-distanced version on our own! Keep on reading...
Digital Care Package
April 17th, 2020* We hope all of you are healthy and happy. Many of you are stuck at home, and others are stressed from your essential jobs. We're grateful to all of you, and thought we'd put our heads together and send you a little something! Welcome to Part One of HighPoint's "Digital Care Package"! Over the next few weeks, we'll be sharing collections of fun sites, productivity tips, and even our favorite recipes. It's our way of letting you know we care. We're all in this together!
Productivity Corner Keep on reading...
***Company Update***
In accordance with the Governor's recent mandate, HighPoint Advisors, LLC will be moving to a rotating schedule to minimize the number of staff and advisors working in-office. Your advisor is still available to you, and so is our staff. We are available to our clients during regular business hours, but we ask that you refrain from visiting our offices unless you have an appointment. All of our company systems, including phones, offer remote access, so there will be little to no disruption in client services. If you have any questions regarding these changes, please feel free to give our office a call or send us an email. We wish you safety and good health in the weeks to come.
...
Winter Food Drive 2020
February 25th, 2020
HighPoint Advisors, LLC was proud to once again support the Food Bank of Central New York by hosting a Winter Food Drive. In January, we placed donation bins in our office and the lower lobby of our building to collect non-perishable food items for those in need. Staff, clients, and neighbors all contributed. We collected over 46 lbs of food this year! This donation will help make a difference in the lives of the hungry through Central and Northern New York. If you couldn't make it to our office but would still like to support the Food Bank, please visit their website for ways to support their mission. We thank all those who have donated and look forward to helping out again next year. ...
Client Appreciation: Holiday Edition
December 16, 2019
Our first annual client appreciation pie giveaway was a great success! On Wednesday, December 11th, clients from all over Central New York stopped into our office to pick up the pies they'd ordered and join us for some holiday cheer. The whole space smelled like Christmas thanks to the homemade holiday goodies provided by our team. Pat made a big pot of mulled cider, Chelsea provided some truly decadent hot chocolate, and Sarah brought in a platter of snickerdoodles. We loved seeing people's faces light up when (more…)...
Volunteering at the CNY Diaper Bank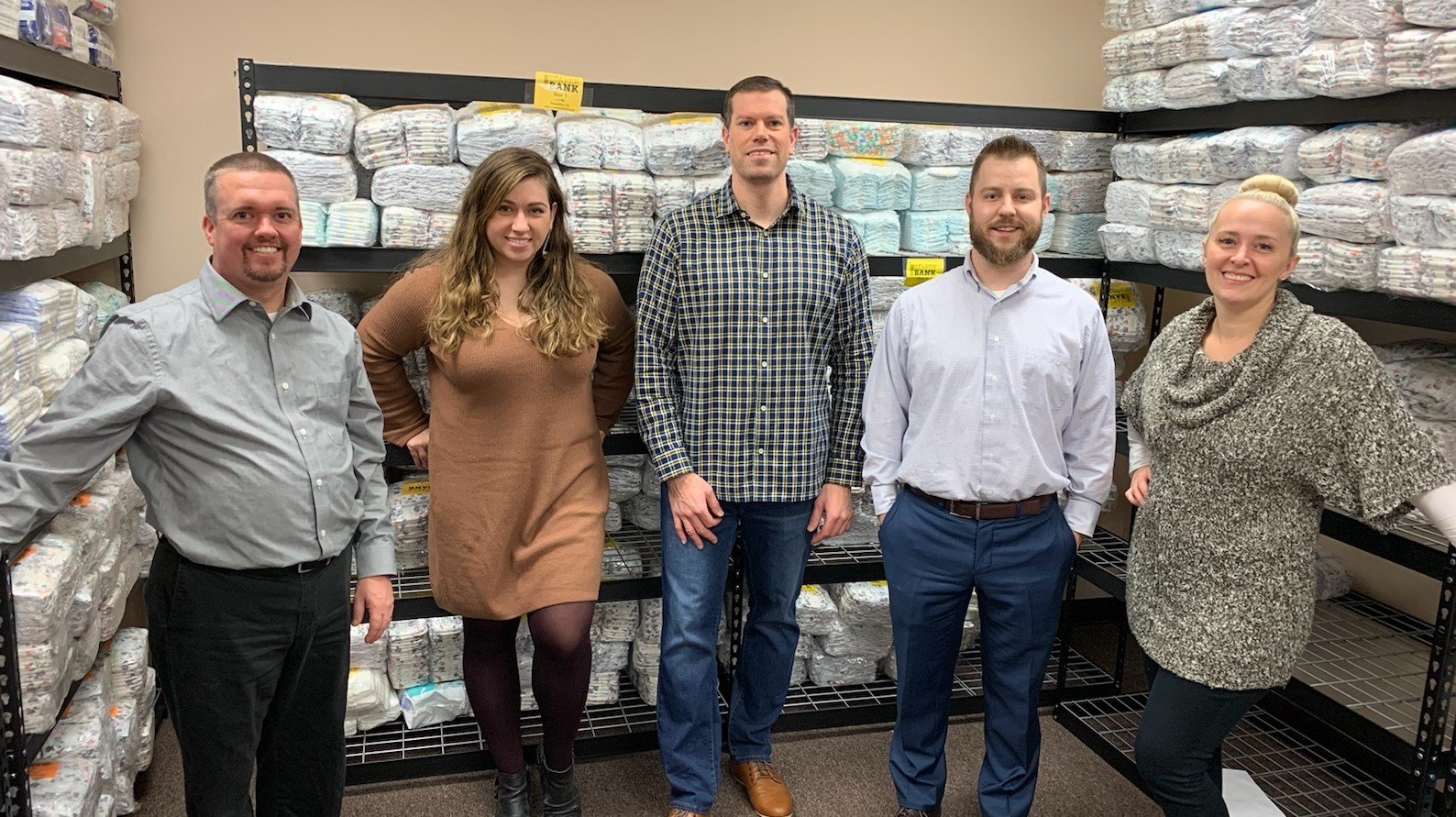 On Thursday, December 5th, the HighPoint team spent a wintry afternoon volunteering at the Central New York Diaper Bank. We decided to volunteer in celebration of AJ being named a 2019 CNY Business Journal 40 Under 40. Every year, the 40 Under 40 Awards honors a local non-profit, and this year they chose the Diaper Bank. As volunteers, we repackaged diapers into parcels of 25, and loaded them into bags to be delivered to various partner agencies. It was actually a lot of fun, and several members of the team are planning to come back to volunteer with their families. (more…)...
AJ named CNY 40 Under 40!
Congratulations to our Managing Director AJ Loedel for being named one of Central New York's 40 Under 40! The honor, awarded every year by the CNY Business Journal, celebrates individuals who have had a positive impact on the CNY region through their personal, professional, and philanthropic pursuits. AJ was honored for his leadership, dedication to the CNY region, and abiding commitment to ethical business practices. His employees praise his steady demeanor and describe him as "the best boss they've ever had." Our Office Manager is actually the person who nominated him. "AJ never wants to make things about him. It's always about the clients and about the team. I'm glad he's getting the recognition he deserves!" (more…)...