In the Community
Highpoint Advisors is happy to sponsor and participate in many community events throughout East Syracuse, NY and the surrounding areas. Look through some of our recent events below. We hope to see you at our next local event!
Earth Day Cleanup 2016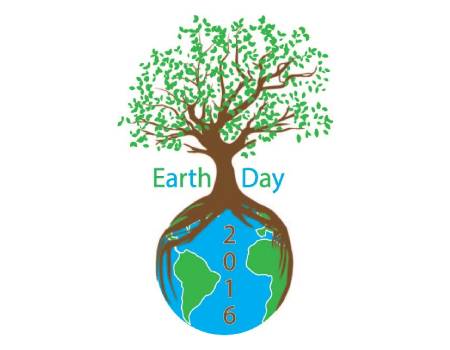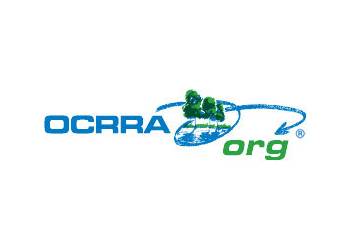 On April 22nd, the HighPoint Advisors, LLC team took a day off to help clean up our community as part of
Earth Day 2016
. This year we went up and down both sides of
Butternut Drive in Dewitt
, grabbing all the garbage and other items that didn't belong on the sides of the road. This year we lucked out - the weather stayed nice and the rain held off until we were done with our task! A special thanks to
OCRRA
for taking care of the garbage that we took off the road. After our cleanup was complete, we grabbed a few slices of pizza at
Trappers
(also on Butternut Drive). It was a rewarding and fun day. ...
Check out our new TV Commercial
HighPoint Advisors, LLC has another TV commercial running as of April 17th, 2016! Tune in to WSTM Sunday mornings from 8:00am to 11:30am, as our commercial will be running during the following shows: - The Today Show (8:00am) - Weekend Today in CNY (9:00am) - Meet the Press (10:00am) - Full Measure with Sharyl Attkisson (11:00am). Check it out…..and don't forget to like our YouTube channel! ...
Heart Walk 2016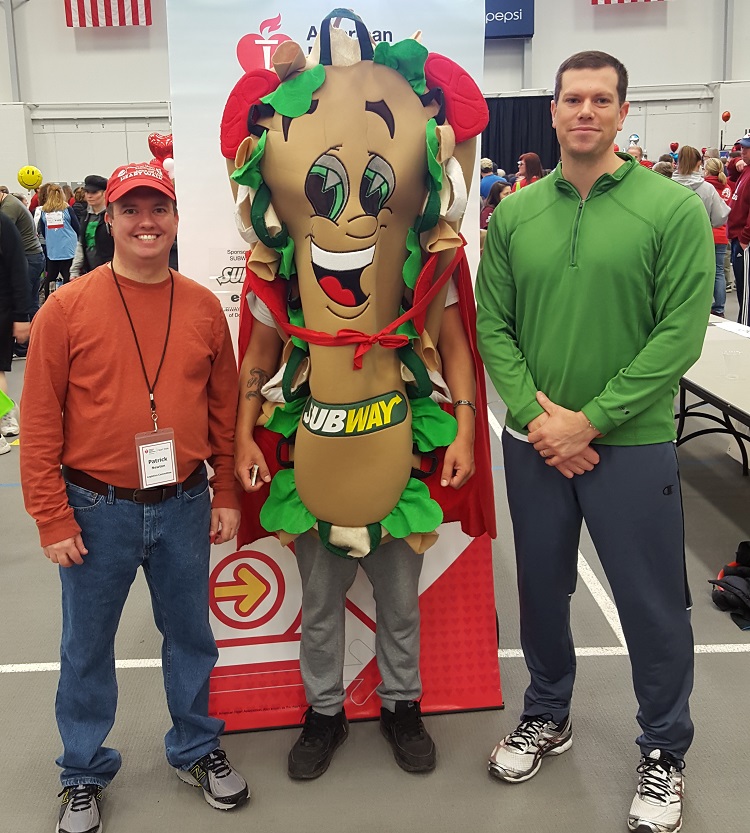 On April 2nd, 2016, the team at HighPoint Advisors, LLC once again supported the
Syracuse Heart Walk
. The Walk took place at the SRC Arena again, and this year the weather was a little warmer than last year! Since the beginning of the year, the team
raised over $1500 toward the American Heart Association
and is continuing to raise money through the end of the month of April. We would like to thank our clients, partners, and team in their effort toward reaching this large fundraising amount. Our own Patrick Newton and his parents (Dean & Rita Newton) were volunteers working in the food area of the festivities, as they do each year.
HighPoint Advisors, LLC supports several non-profit activities throughout the year. If you would like to know more about the causes we support, please contact us at
info@highpointadv.com
...
HighPoint helps to sponsor Sleeping Beauty

HighPoint Advisors, LLC
is proud to be a scene sponsor for the
Syracuse City Ballet's
production of
Sleeping Beauty
. New York City Ballet principal dancer, Ana Sophia Scheller is featured as Princess Aurora in this story. Sleeping Beauty, Tchaikovsky's beloved magical tale of a beautiful princess, under a spell to sleep for 100 years until she can be awakened by the kiss of true love, comes to the stage of the Crouse Hinds Theater in Syracuse & in a sumptuous new production by Syracuse City Ballet. The ballet will have 2 showings,
Friday, March 11th at 7pm & Sunday, March 13th at 2pm
. Tickets for Sleeping Beauty range from $17 – $55 are available at or by calling the Oncenter Box Office at 315-435-2121. Tickets for Children 12 and under are just $10.
Click the banner to visit the Syracuse City Ballet.
...
An evening at the bowling alley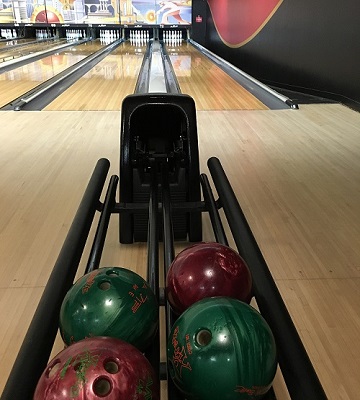 It's a good thing that we are better at Financial Planning than bowling.... We had a fun night out with some of our friends and clients on 12/10/15, but I think it's safe to say than none of us here at
HighPoint Advisors, LLC
are pro bowlers. Some of our guests, however, were impressive on the lanes! Held at
AMF Strike N' Spare
in North Syracuse and co-sponsored by our friend Tom Waldron at
Guggenheim Investments
, this night out was the perfect break from the normal routine and a great chance to just have fun. We thank all those involved in this evening out, and look forward to doing something similar after the holidays!...
HighPoint Advisors sponsors the Buy Local Bash again!
The Syracuse First
Buy Local Bash
has come and gone again! For the 3rd year in a row,
HighPoint Advisors, LLC
helped to sponsor the event and give back to the local business community. Held on November 23rd, this year's event was housed in the
F Shed at the regional market.
Our team was at the event with a table proudly displaying the logo and information of our local company. We spent hours meeting new people and visiting new local businesses, all while enjoying the great food and drink provided by some of our favorite local restaurants. This is one of our team's favorite events of the year! We look forward to seeing you all at this great local bash
NEXT YEAR!
...
2015 Food Drive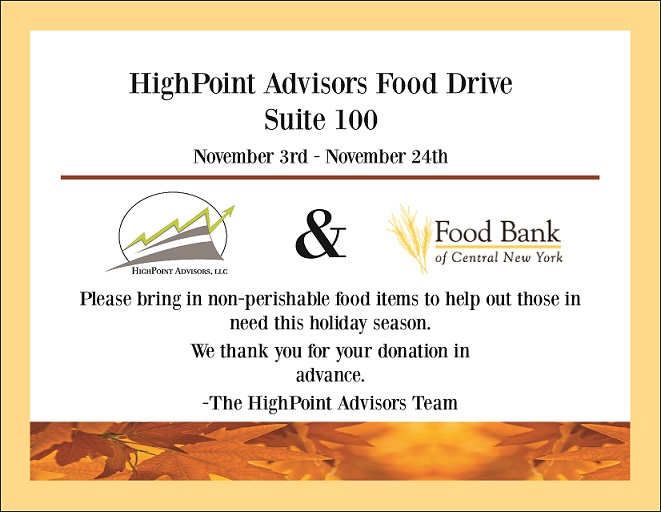 The bins have arrived for this year's
Food Bank of Central New York
Food Drive of 2015. One bin is in our office and the other bin is in the entryway of our building. Please remember to join us at
HighPoint Advisors, LLC
in donating non-perishable food items to those in need this year. The Food Drive goes from
November 3rd to November 24th
. We thank you all in advance for your generosity. Here's an easy idea: simply bring something from your pantry to drop in the bin when you come in for your meeting with your advisor....
AJ earns the RICP Designation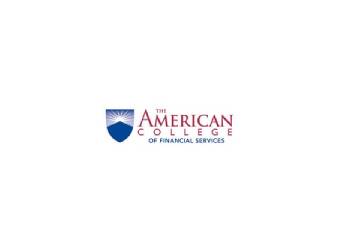 AJ recently completed the coursework and other requirements for the
Retirement Income Certified Professional (RICP)
designation. Offered through The American College, this is the only designation focused specifically on comprehensive income planning. While many advisors are experts at wealth accumulation, there is an urgent demand for practical ways to structure effective retirement income plans. The risks clients face—economic and market uncertainty, inflation, outliving available income, changes in social safety nets, and rapidly escalating healthcare costs—mean financial professionals need all the latest thinking and techniques to serve their clients' changing needs....
A night out at the Ballpark
The HighPoint Advisors, LLC team rented a suite at NBT Bank stadium and cheered on the
Syracuse Chiefs
as they took on the Buffalo Bisons. Both friends and clients enjoyed the game, food, drink & great weather! After a win by Syracuse, there was a great fireworks display! Thank you to our sponsor
David Friedman of Mainstay Investments/New York Life
and all that attended!...
HighPoint helps sponsor the Susie Sunshine golf tourney
The HighPoint Advisors, LLC team sponsored a hole this year for the 3rd Annual Susie Sunshine Golf and Volleyball Tournament held at Pine Grove Country Club in Camillus, NY. Established in 2013, the tournament was started to help pay medical and other related bills for the Wolfram family of Camillus. Sue Wolfram, mother of two, eventually lost her life after a brief battle with breast cancer. There was plenty of sunshine and much laughter all day in the memory of Sue. Money raised at this year's tournament will be added to the Susie Sunshine Foundation and redistributed back into the community to help other families in need....